SRI LANKA…..known by many names – Ceylon, Taprobane, Serendib later employed by Horace Walpole to coin the word 'serendipity'. At the tip of Southern India, Sri Lanka dangles like tear drop to form an island of exotic natural beauty.
Sir Arthur C. Clarke who made Sri Lanka his home for many decades said "the island of Sri Lanka is a small universe; it contains as many variations of culture, scenery, and climate as some countries a dozen times its size".
With an area about the size of West Virginia, Sri Lanka beckons with amazing ancient temples dating back to 5 BC, primeval jungles where leopards lurk, pristine, golden beaches and sparkling Indian ocean teeming with sea life that include dolphins and migrating whales; hill country with dazzling green tea estates that stun the eye! In the shadows of Adam's peak (7,300 ft) which is a holy place to Buddhists, Christians, Hindus and Muslims is the gem city of Ratnapura; dreams of Cleopatra, Catherine the Great, Elizabeth Taylor, Princess Diana were fulfilled with precious gems from these mines which include rubies, alexandrites, amethysts, cat's eyes, garnets and the most popular sapphires.
Everywhere you go smiling people greet you and welcome you with their warm hospitality. Sri Lankans are well known for their kindness to strangers as it is part of their culture to be hospitable and generous.
Sri Lanka will not disappoint as it has an immense capacity to fulfill your travel dreams!
Official name

Democratic Socialist Republic of Sri Lanka

Government

Republic

Location

Latitude 5° 55. to 9° 50. north, longitude 79° 42. to 81° 52., 650km north of the equator

Dimensions

430km north to south, 225km east to west

Area

65,525km

Currency (code)

Sri Lankan rupee (LKR)

Commercial Capital

Colombo

Climate

Typically tropical, with mostly sunny days with a northeast monsoon (December to March) bringing unsettled weather to the north and east, and a southwest monsoon (June to October) bringing rainy weather to the south and west

Population

21,128,773 (2001 Census)

Literacy rate 

Female 87.9 Male 92.5

Ethnic groups

Sinhalese 73.8%, Sri Lankan Moors 7.2%, Indian Tamil 4.6%, Sri Lankan Tamil 3.9%, other 0.5%, unspecified 10%

Languages

Sinhala (official and national language) 74%, Tamil (national language) 18%, other 8% 
Note: English (a link language commonly) is used in government and spoken competently by about 10% of the population

Religion

Buddhist 69.1%, Muslim 7.6%, Hindu 7.1%, Christian 6.2%, unspecified 10% (2001 census)

Time zone

Sri Lanka Standard Time isfive and a half hours ahead of GMT. (Allowance should be made for summer-time changes)

International dialing

+94

Electricity

230 . 240 volts, 50 cycles AC. If you travel with a laptop computer bring a stabilizer
Kandy Perahera Festival Tour
July – August (13 Days)
One of the biggest Buddhist celebrations of the year, the annual Esala Perahera is a religious ceremony during which devotees pray for good rains to cultivate the crops. One of Buddhism's most sacred relics, the Sacred Tooth is taken from the Temple of the Tooth and paraded through the streets. Following this, more festive events take centre stage and visitors can expect to see a lively cast of dancers, jugglers and fire-breathers milling amongst the crowds. This Sri Lanka tour is one of the best ways to get the most of your visit to Sri Lanka.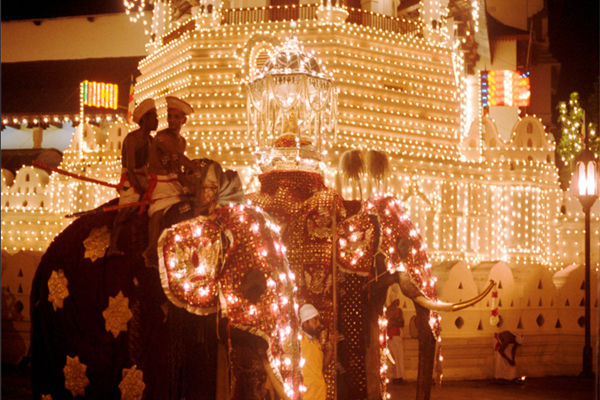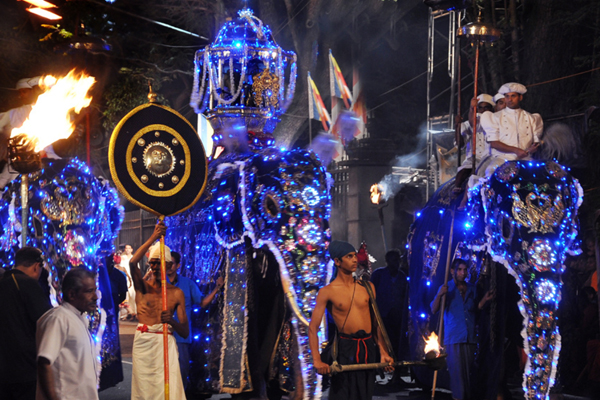 Nawam Maha Perahera Tour
February – March (12 Nights)
Sri Lanka beckons you with festivals… Nawam Maha Perahera is similar to the famous "Kandy Perahera" and is held in Colombo. This colorful and exotic event comprises of almost 100 elephants, over 5,000 artistes with dancers, acrobats, drummers, torch bearers and more… The perahera is officially inaugurated when the sacred relics are paraded in a gilded casket placed on a majestic tusker, which is elegantly caparisoned and walks calmly amidst the hive of activity. This Sri Lanka tour includes other highlights of Sri Lanka with its myriad of attractions.
Extension Tour to South India
10 Days
Kerala is where India slips down into second gear, stops to smell the roses and always talks to strangers. The real emerald jewel in South India's crown are the backwaters that meander throughout Kerala. This is an extension from the Sri Lanka tour.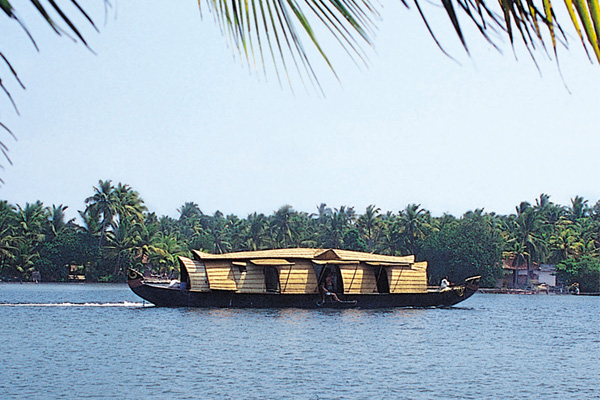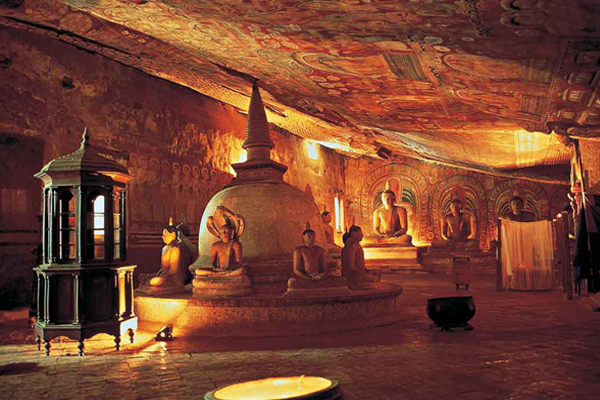 Spiritual Sri Lanka Tour
November 5-17, 2023
An enchanting journey of a lifetime with John Blevens.
Ready for your next vacation?