Offering enchanting journey's of a lifetime!
Special customized program to India – The pomp and pageantry of the Republic Day is the focus of our tour. This day is set aside to commemorate the day on which the Constitution of India came into force. Every year a grand parade is held in the capital, New Delhi, from the Raisina Hill near the Rashtrapati Bhavan (President's Palace), along the Rajpath, past India Gate, showcasing the military prowess and the diverse cultural heritage of India. With thousands of dancers, which include children from various parts that are unified in their diversity with performances of folk dances. Also included are decorated camels, elephants and the different regiments of the forces in their grand military regalia.
Arrival: Delhi
Meet upon arrival & transfer to hotel. Room from 12 noon
Overnight at Parkland/ Park Plaza Hotel (Standard Room)
Delhi
AM: Old Delhi: For something close to Rudyard Kipling, visit the 17th century Old Delhi.  Drive pass by Red Fort, visit Jama Mosque and Main Street of Chandni Chowk. Also visit Raj Ghat where Father of the Nation Mahatma Gandhi was cremated.
PM: New Delhi: The capital of the country has long been a phoenix rising again and again out of its ruins.  Delhi is really seven cities in one, the first dating from the 11th century. See the famous Qutab Minar-12th Century 238 ft. High Stone Tower, indeed a masterpiece of construction, Humayun's Tomb-Built by widow of the second Mughal King Humayun in 1265.  New Delhi was the creation of the British Raj of the 30's and includes The President's House, Parliament, India Gate, the Rajpath and downtown Connaught Place.
Overnight at Parkland/ Park Plaza Hotel (Standard Room)
Delhi – Amritsar
Transfer to railway station to connect train to Amritsar
| | | | |
| --- | --- | --- | --- |
| Departure: | Delhi  | 0720 hrs  | 12015 Shatabdi Exp |
| Arrival:   | Amritsar | 1325 hrs |   |
A/c chair car (BREAKFAST ON BOARD)
Meet upon arrival & transfer to hotel.
Late afternoon: excursion to India – Pakistan – land border at Wagah. Witness the police post changing of guard, very colorful & unique to the Indian sub-continent (sub to permission).
Overnight at M.K. Hotel (Deluxe Room)
Amritsar
AM: Amritsar City: it is located on the north-western border of the country. The 400 years old city, founded by the fourth guru of the Sikhs, Guru Ramdas, has been the seat of Sikh religion and culture from its very inception. Amritsar, literally-`pool of nectar', derives its name from the holy pond around the temple. The land for the pool was gifted by the Mughul emperor Akbar. Amritsar is renowned for the famous golden temple built in the midst of the holy pool by maharani Ranjit Singh in 1803, it is also known as Darbar Sahib or Har Mandir Sahib. The dome of the temple is covered with an estimated 400 kgs of gold leaf, hence its popular name the `golden temple'.
Also visit Jalianwala Bagh, the historic site where hundreds of innocent Indian men, women and children were massacred by British general Michael dyer on April 13, 1919. A memorial and garden have been created here as a national monument.
2130 hrs: visit to see Palki Ceremony at Golden Temple – The Holy Scripture is brought in a vivid procession from the Akal Takhat (the highest temporal seat of the Sikhs) in the morning to the temple, to be returned at night. Singing is central to Sikh worship & is a feast to the souls when hymns from the Holy Scripture are recited Kirtan; the waves of the classical ragas, a sublime blend of voice & music.
Overnight at M.K. Hotel (Deluxe Room)
Amritsar – Delhi
Transfer to railway station to connect train to Delhi
| | | | |
| --- | --- | --- | --- |
| Departure: | Amritsar  | 0500 hrs | 12014 Shatabdi Exp |
| Arrival: | Delhi  | 1115 hrs    |   |
A/c chair car (BREAKFAST ON BOARD)
Meet upon arrival & transfer to hotel.
PM: Visit The Akshardham Temple (closed on Monday), built without steel, is entirely composed of sandstone and marble. It consists of 234 ornately carved pillars, 9 ornate domes, 20 quadrangle Shikhars, a spectacular Gajendra Pith (plinth of stone elephants) and 20,000 murtis and statues of India's great Sadhus, Devotees, Acharyas and Divine personalities.
The monument is a fusion of several architectural styles of pink stone and pure white marble. Pink stone symbolizes bhakti (devotion) in eternal bloom and white marble of absolute purity and eternal peace. The monument was built after over 300 million man hours of services rendered by 11,000 volunteers, Sadhus and artisans.
Overnight at Parkland/ Park Plaza Hotel (Standard Room)
Delhi – Agra (B) – *Republic Day Parade*
AM: Witness Republic Day Parade Ceremony at India Gate with all its pomp and pageantry.  Thousands participate in this elaborate ceremony. Dancers, Military personnel, elephants, camels, horses, tanks and more!
After that drive to Agra (220 kms / 05 hrs).
On arrival check in at hotel.
Overnight at Clarks Shiraz Hotel (Standard Room)
Agra – Jaipur
AM: Visit Taj Mahal at Sunrise (Closed on Friday): – Unquestionably the world's most magnificent monument to over built in 17th century.  A colossal, perfectly proportioned mass of white marble, it is literally a jewel, fashioned over 20 years of hundreds of skilled craftsmen and over 20,000 laborers to float like some fantastic mirage upon the Yamuna.
Agra Fort: The Agra fort was once the flourishing centre of the Mughal Dynasty, and four successive emperors helped to create its massive walls, within which Hindu and Muslim styles merge into a splendid fusion of military might and lavish beauty.
Later drive to Agra/Jaipur (265kms/05hrs) via Fatehpur Sikri.
Fatehpur Sikri: about 40 km from Agra lays the magnificent deserted city of Fatehpur Sikri, the capital of the great and loved emperor Akbar. During his brief stay here, a great complex of Forts, Palaces and Mosques sprang up, but Akbar was finally forced to abandon his dream city due to scarcity of water, and it became a ghost town. This epic poem in sandstone lies straddled across a rocky ridge, surrounded by immense walls with nine gates.
Continue drive to Jaipur. On arrival check in at hotel.
Overnight at Ramada/ Golden Tulip Hotel (Deluxe Room)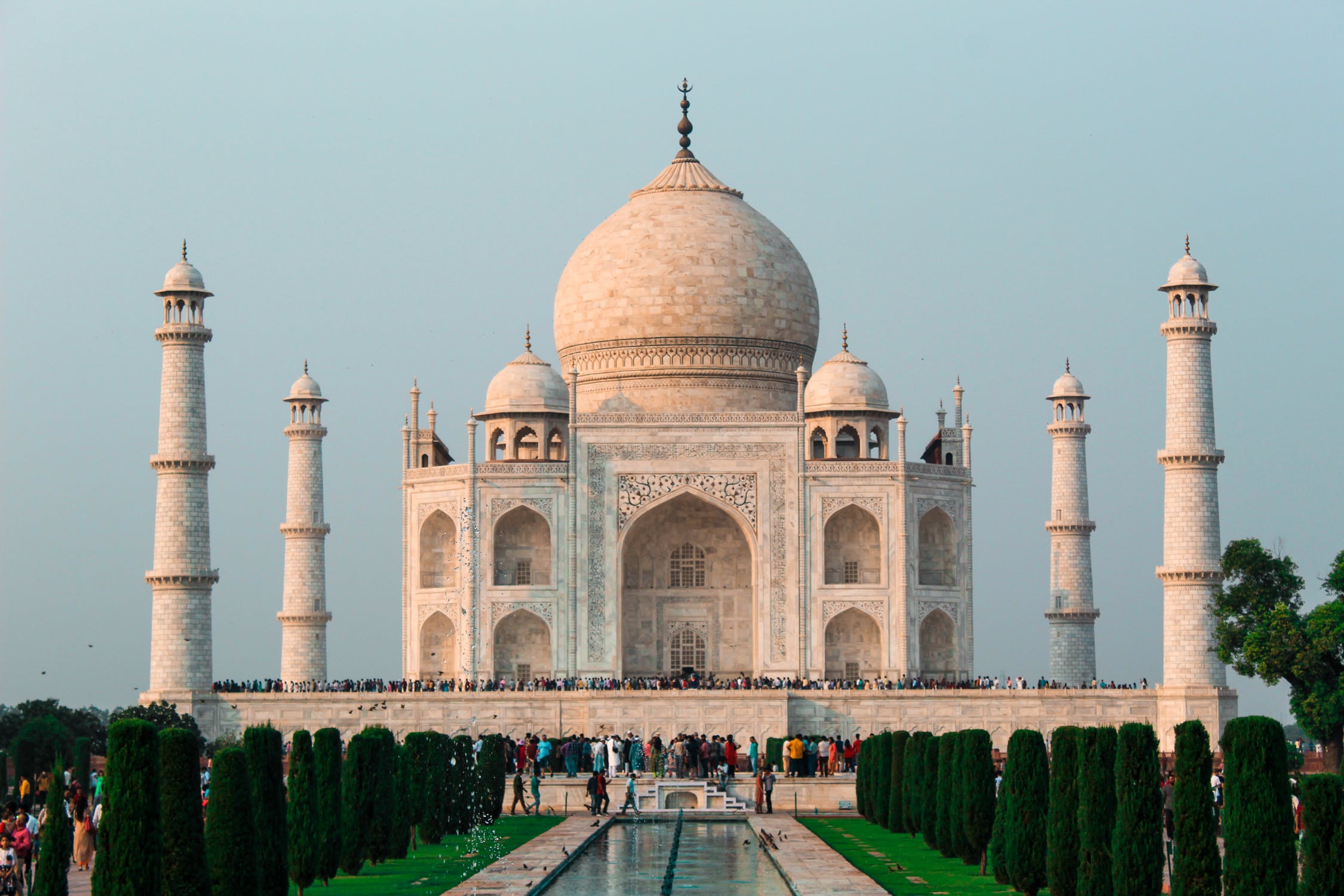 Jaipur
Morning leave for the Royal Botanical Gardens at Peradeniya, a formerly the pleasure gardens of the Sinhala Queens.  The gardens contain over 4000 species of plants.  The avenue of the Royal Palms, the bamboo fringed Riverside drive, the Bat drive with a vast collection of flying foxes who spend the daylight hours hanging upside down, are some of the special features of this lovely garden.  There is also an Orchid house, a Spice garden, a Herb garden and Glass house of Anthuriums, Begonias, African Violets and other greenhouse plants.
Then leave for Nuwara Eliya in the heart of the tea country, which was established by the British as a replica of a little English village reminiscent of the Lake District.  Even today Tudor and Victorian style houses with trim English gardens speak of a gentler age.  An 18 hole golf course and the picturesque lake are a year round attraction.  Tour this unusual little city and en route visit a tea factory where you can see the intricacies that go into the manufacture of the world's best loved brew.
OVERNIGHT WITH BREAKFAST & DINNER
Jaipur – Jodhpur
Drive Jaipur/Jodhpur (350 km/7 hrs). On arrival check-in at hotel.
Overnight at Bal Samand Garden Retreat (Garden Room)
Jodhpur
AM: Sightseeing tour of Jodhpur including Mehrangarh Fort
Jodhpur city is an ancient capital city of Marwar is surrounded by a stone wall (almost 9km in circumference) with seven gates separating it from the sands that stretch out on all sides. Dominating the city is a massive impregnable fortress situated on a rocky scrapped hill. Within the fort walls are number of old palaces, with priceless jewels and interesting collection of arms. On the walls of entry gate are stone-palm-impressions of the widows, who ages ago immolated themselves upon the pyres of their departed husband.
Mehrangarh: still run by the Maharaja of Jodhpur, Meherangarh, the majestic fort, is just that sprawled across a 125 mile-high hill; this is the most formidable fort in fort – studded Rajasthan.
PM: Jeep safari to Bishnoi Village to see the rural way of life if possible we will try to show you opium drinking ceremony.
Bishnoi & Patel Community 
They are agriculturist & second oldest community protecting flora & fauna.  Separate cluster of houses (huts) for one entire family. You can enjoy opium ceremony here & can have a cup of tea with local flavor.
Moila Community
They are Muslim potter.  Moila will demonstrate the way of making potteries.  It will be a nice experience for foreign tourists. 
Shepherds Community
Their main means of living is by selling Sheep and Cattle milk etc. Every morning the man of every house will go away with hundreds of cattle and sheep to feed them. The house wife takes care of lambs at home like her child.
Parapet Community
They are weavers. Here also they demonstrate the way of weaving where you can buy local materials and souvenirs.
Overnight at BAL Sam and Garden Retreat (Garden Room)
Jodhpur – Nagaur
After breakfast drive to Naguar (140 km / 03 hrs). On arrival check in at Hotel.
Pm: The fort at Nagaur is a veritable jewel in the midst of the rugged bastions of the city, an ancient complex of palaces, temples and mosques, with exquisite murals, intricate barrios and water supply systems, fountains, open terraces and pleasure gardens dating back to the Mughal time. 
Overnight at Ranvas Nagaur Hotel.
Nagaur – Mandawa
After breakfast drive to Mandawa (145km/03hrs) Via Nawalgarh visit – Founded in the early 18th century, Nawalgarh has two old Forts and a Palace hotel with gardens and fountains.  The Bala Kila has a kiosk where some of the finest frescoes in Shekhawati are painted. The prominent Havelis here are of the Poddars, Chawachharias, Bhagats, Dangaichs and others. A host of temples with interesting architecture and frescoes are also recommended for a long and fruitful visit.
Continue drive to Mandawa. On arrival check in at hotel.
Overnight at Sara Villas Hotel (Deluxe Room)
Mandawa – Delhi – Departure
AM: Mandawa: The town of Mandawa lies in the heart of the Shekhavati region. As you approach it, Mandawa emerges from the sand like a mirage. Wandered through to streets were the mentioned and havelies of rich merchants are adorned with elaborates frescoes and admire their intricately painting courtyards. The rugged fort for Mandawa, was built in 1755 by Thakur Naval Singh.
After that drive to Delhi (250km/05hrs). On arrival car at disposal until departure to airport for flight home.
*Itinerary is subject to change due to changes in local conditions or for circumstances beyond our control.
Hotels in Quotation – Moderate 4 star
City Hotels / Room Type
Delhi Parkland / Park Plaza – Standard Room
Amritsar M.K. Hotel – Deluxe Room
Delhi Parkland / Park Plaza – Standard Room
Agra Clarks Shiraz – Standard Room
Jaipur Ramada / Golden Tulip – Deluxe Room
Jodhpur Bal Samand Garden Retreat – Garden Room
Nagaur Ranvas Nagaur
Mandawa Sara Villas – Deluxe Room
12 nights hotel, sharing twin / double with daily breakfast
All transfers / tours will be provided by A/C vehicle
Local station english speaking guide as per itineary
A/C chair car train fare between Delhi / Amritsar / Delhi
Jeep ride in Jodhpur
Monument entrance fees as per the itinerary
Present applicable taxes
Charges for services of a personal nature, such as personal tipping, telephone, Laundry, room service, airport taxes, trip/baggage insurance, visa/passport fees, Camera/video fees, extra meals and beverages and any items not specifically mentioned.
Low cost add-on airfares available from your home city. 
Completed booking forms & a deposit of $500 per person are required to reserve a space on this tour. 
Click here to download our Booking Form / Credit Card Authorization Form / Terms & Conditions.
Ready for your next vacation?