About Ceylon Express International
Founded by the late, Mr. Jim Wanigatunga in 1965 we are a family owned tour operating business with over 46 years of dedicated and pioneering travel experience. We believe in a more personalized and customized approach to travel. All our tour itineraries are carefully designed to cover the major attractions, but we also offer off-the-beaten-track places that makes our programs unique and interesting.
We offer the best rates available as we have branch offices in the countries we offer. This enables us to get the best wholesale prices available and pass on the savings to our valued clientele. Our privately guided tours offer the best in services at a packaged price.
Our clients enjoy the flexibility of choosing a vacation that suits their specific interest, budget and schedule.
We are a member of the following organizations:
Our services are dedicated to make your travel dreams come true. With a deep understanding of the country you are visiting we are able to provide an unmatched experience of a life time…tailored to suit your style of travel with our 'meet and greet' services we offer priceless peace of mind. We have the distinctive experience to offer impeccable service with the utmost care at the best value.
Established in 1965 to foster peace and understanding through travel by our founder Jim Wanigatunga. He believed in people-to-people travel and we continue his vision.
With deep history and depth of understanding of each and every culture we value the traditions of each place and plan our tours with respect and sensitivity.
Our experiences born from deep history, experience, and relationships bring to life intimate cultural and natural wonders of each area you visit.
We offer the very best local guides and escorts to meet your needs.
We partner with destination specialists to ensure a hassle-free vacation
We offer 24 hour hotline numbers so you rest assured that help is there, if you need it.
Our dedication to details makes the difference.
Peace of mind. For over four decades we have made travel dreams a reality.
Unlike other travel companies, Ceylon Express International is small enough to offer each and every traveler the most personalized care with impeccable service for the discriminating traveler. We do not compromise on quality and we offer the best value available. Our unparalleled experience and passion for detail gives the traveler the freedom to relax and enjoy the journey and be open to the awaiting adventures and serendipity!
Ser·en·dip·i·ty ….an aptitude for making desirable discoveries by accident.
One of the best trips to a fascinating country… I was surprised that the hotels and services were so great.
Travel to Myanmar (Burma) is a glance to an era where the British ruled and left their mark, yet retained the Buddhist way of life. The trip was well planned and executed. Highly recommend a visit.
I can highly recommend this trip to people looking for a different travel experience…the people are so kind….the pagodas are awesome.
Myanmar is more beautiful than we expected…The hotels are so charming and elegant…The guides are the most caring and efficient in every respect. We are glad that we came as Myanmar has been on our list of countries to visit for a long time.
A place that Rudyard Kipling found most interesting and different. A must see destination on any travelers list.
Myanmar is most welcoming to tourists despite the negative reports. It is truly an unusual country with the friendliest people. Travel there before it becomes more popular and tourists start flocking in. The history and cultures will amaze you. The natural beauty of Inle Lake is breathtaking.
Varini de Silva of Ceylon Express International created an independent month-long trip to Asia for my wife, Barbara, and me.
Ceylon Express, using ground operators Rainbow Travel (Thimphu, Bhutan) in Bhutan and Indochina Services (San Francisco, CA) for the rest of the tour, went out of their way to give us a great itinerary that included all of the highlights.
The guides were there when they were supposed to be, the hotels were great and the land tour operators were super. We had a guide and driver in every city, and someone was waiting to meet us on every arrival.
We started and ended the tour in Bangkok. We spent nine days in Myanmar, where the hotels and the food turned out far better than we expected. The people and the temples are beyond my ability to describe.
We had five days in Bhutan, a place with warm, caring people and a wonderful culture. At a temple festival we had a chance to meet and chat with the new king, who was very gracious.
We spent seven days in Viet Nam, traveling from Hanoi to Ho Chi Minh City. I felt a little uncomfortable with a constant reminder of the damages done during what the people kept calling the American War.
We have used Ceylon Express and Varini de Silva before, and she has never missed. Our trip went off without a hitch.
Varini carefully planned my trip so I would see Sri Lanka at the time of the Kandy Perahera, continuing from there on a 'round-the-world trip. She arranged for part of the tour money go to the Foundation for Coexistence, which offers hope to the people of Sri Lanka for a speedy recovery from the devastating tsunami of December 2004.
Words are inadequate to describe this island's natural beauty and tranquility. Our group of eight traveled in a small van with our tour guide (who spoke excellent English), a driver and a young man who helped with the luggage and other chores.
There are many Buddhist, Christian and Hindu festivals in Sri Lanka (based on the lunar calendar, the dates of most vary from year to year), with the huge Kandy Esala Perahera the most important and spectacular. In my view, it is the most awesome parade anywhere in the world!
In the continuous 10-day/10-night festival, thousands of dancers, drummers and temple chieftains take part in the peraheras (processions) with floats and 67 magnificently decorated elephants. The highlight is the mighty tusker elephant Maligawa carrying the golden relic casket, which enshrines the Sacred Tooth of the Buddha. We had special seats in the balcony of the Queen's Hotel to watch the parade.
Highlights of the trip included the Cultural Triangle of Sri Lanka, comprising three ancient capitals of the island: Anuradhapura (fifth century B.C. to 10th century A.D.), Polonnaruwa (10th-12th centuries A.D.) and Kandy (16th-19th centuries). There are five UNESCO World Heritage Sites in the triangle.
We visited the site of the bo tree, under which the Buddha found enlightenment, and I was blessed by a Buddhist priest who wrapped a sacred thread around my wrist. The Kelaniya Raja maha Vihara temple, believed to have been visited by the Buddha 2,500 years ago, is an archaeologist's dream. And the Rock Fortress at Sigiriya is an awesome monolith transformed into a city in the clouds; the Lion's Paw entrance at the summit leads to frescoes of celestial maidens.
What a treat it was to watch groups of elephants at the famous elephant orphanage. I loved it when they crossed the river and emerged very clean, only to roll in the red mud on the other side.
My favorite part of the trip was the parade. My least favorite was the long plane ride getting there, but stops helped to exercise the muscles. I would have preferred more time for shopping, but my pocketbook was grateful there was not more time. Gems were abundant in many cities, and I bought ruby and star sapphire earrings, moonstone earrings and an unset moonstone. Kudos also go to the food, the elephant orphanage and the friendly, helpful people.
The food was excellent — all buffets with choices of Western and Eastern food (curry with hot spices and sugar sweets). We had bottled water at our disposal constantly.
Our driver deserves a great vote of confidence. I myself would not want to drive the narrow roads, full of trucks, bicycles and pedestrians, under any circumstances.
People travel for adventure, ancient sites, historical and cultural memories, culinary pleasures or companionship or to loll on the beach. Sri Lanka has it all! My pleasant memories of this tropical paradise will last a long time.
I enjoyed another exceptional trip arranged by Varini. This one, 30 days in length, for four people, was to southern India and Sri Lanka.
Flying from Los Angeles to Singapore nonstop, we traveled very comfortably in Singapore Airlines' Executive Economy class. This class has almost business-class space, and the seats recline much more than in standard economy class. With the excellent service and amenities of Singapore Airlines, we were well cared for.
Our next leg took us to Chennai, arriving late at night. Particular highlights of the 18-day southern India portion of our trip included visits to exquisite temples in many cities, a night at Periyar National Park, a night on a kettuvallum (houseboat) in Kerala, a Kathakali dance performance and a cooking demonstration in an Indian home.
We finished the southern India segment with two days at the Kings Sanctuary at Nagarhole National Park and one day in Bangalore. Besides the temples, highlights were the incredible color of India, the rural scenes, a school visit and the extreme friendliness of the people.
Our eight days in Sri Lanka comprised three days in Dambulla, three days in Kandy and two days in Bentota. From Dambulla we visited the rock caves, Anuradhapura, Aukana, Polonnaruwa and Sigiriya; this area contains five UNESCO World Heritage Sites.
Highlights of the Kandy stay were a visit to the Tooth Relic Temple, a tour of the Botanical Gardens and a visit to a tea factory as well as a cultural dance program.
En route to Bentota we visited the elephant orphanage at Pinnewela, another highlight. We also stopped at Ratnapura, the city of gems. Unless one has a particular interest, this visit could be eliminated.
Bentota is delightful and the hotel there is perfectly named, the Taj Exotica. This was a wonderful way to end a long vacation — a beach, a marvelous pool and excellent food.
The 8-hour layover in Singapore on the way home was softened by finding the airline's Premium Lounge, where for US$16 we had access to snacks, showers, a workout room and free Internet.
On this tour, the hotels all were 4- or 5-star, excellent, with superb food. Particularly notable were Taj Fisherman's Cove, Taj Garden Retreat, Spice Village, Brunton Boatyard, Kandalama, Mahaweli Reach and Taj Exotica. The guides were extremely well informed and spoke excellent English. This was a trip that I would highly recommend.
Our group of four toured VIET-NAM in February '05 on an 18-day trip (not counting travel days).
We visited the Mekong Delta (Can Tho), Ho Chi Minh City, Da Lat, Nha Trang (stopping at Phan Rang to see the Cham towers), Hoi An, Hue, Hanoi, SaPa, Halong Bay and Thai Binh (to see the Keo Pagoda, Tam Coc and Phat Diem). The trip was superb.
We enjoyed our guides in each city, all of whom were very well informed and spoke excellent English. Almost all of the accommodations were 4- or 5-star, except for two that were 3-star. These latter two could have been improved by our having booked earlier; we were slightly late in our final decisions.
We found Vietnamese cuisine a real treat. There is a large variety with many subtleties of tastes. Prices for dinners, even in the highest-quality restaurants, were generally $10 or less per person, excluding wine.
Dollars are used almost everywhere. Converting travelers' checks was easy in the hotels, but a 2% commission was charged. In the larger cities and tourist areas, ATMs, while not numerous, were available. The Vietnamese people were extremely friendly and pleasant. Most were not averse to being photographed when asked.
For me, the high points were Da Lat, SaPa and Hanoi, although Hoi An and Hue should not be missed.
We were there during the Tet holiday. The Tet preparations and the colorful decorations added to the excitement.
I can highly recommend both the trip and the excellent help and planning by Varini at Ceylon Express International.
Especially recommended hotels are the Victoria Hotel, Can Tho; Majestic, Ho Chi Minh City (for its location); Dalat Palace, Da Lat; Hoi An Beach Resort, Hoi An; Saigon Morin, Hue; Metropole, Hanoi, and the Victoria (although we did not actually stay there) in SaPa.
Sri Lanka Tourism participates at the 2012 New York Times Travel Show
New York (March 20, 2012)
Sri Lanka Tourism and SriLankan Airlines took part at "The New York Times Travel Show", North America`s Premier Travel Show, which was held at the prestigious Jacob K. Javits Convention Centre in New York City from March 2 – 4, 2012.
The Sri Lanka Tourism booth was officially opened on Friday, March 2, by H.E. Jaliya Wickramasuriya, Ambassador of Sri Lanka to the United States, H.E. Dr. Palitha Kohona Sri Lanka`s Permanent Representative to the United Nations, H.E. Major General Shavendra Silva, Deputy Permanent Representative of Sri Lanka to the United Nations and Mr. Dillan Ariyawansa, Head of SriLankan Airlines GSA in North America and Honorary Director for Sri Lanka Tourism in the USA along with distinguished guests.
Tour Operators and Hoteliers from Sri Lanka participated at the Sri Lanka Tourism booth, namely Varini De Silva of Ceylon Express International, Dular Niyangoda of Newxplorer.com, Raju Arasaratnam of Jetwing Travels, L.S.R. Dharmapala of Lanka Sportreizen, Jan Van Twest of The Fortress Resort & Spa, Afghar Mohideen and Gayangi Wirasinha of United Holidays and Rajitha Rajapakse of Walkers Tours.
Sri Lanka's participation at the Show also included cultural presentations. The world renowned Sri Lankan Dance troupe, "Channa-Upuli," flown in courtesy SriLankan Airlines performed on Saturday, March 3 from 1.15 – 1.30pm and 4.15 – 4.30pm followed by additional performances on Sunday, March 4 from 12.15 – 12.30pm and 2.15 – 2.30pm on the Asia Stage which was one of five cultural stages at the Show featuring live performances and culinary presentations from around the world.
Another main attraction at the booth was the life-sized elephant made out of fiber, flown all the way from Colombo to New York in one piece just for the Show!
Visitors to the Sri Lanka Tourism booth also had the opportunity to sign up for a "show only raffle" for two complimentary return air tickets to Colombo from New York courtesy of SriLankan Airlines inclusive of a 3 night/4 day tour package of Sri Lanka. The booth was always busy and over 4000 signed up for the raffle draw which took place on the last day of the Show.
American Cable Channels publicized the Show over the weekend of March 3 – 4 featuring the Sri Lanka Tourism booth amongst others.
This year's Show welcomed a total of 20,860 travelers and industry professionals to a jam-packed three days of travel sales and education. The trade attendance throughout the three days was the highest ever with 6,334 industry professionals attending the Travel Industry Conference & Expo on Friday and throughout the weekend. Sri Lanka`s participation at the Show proved to be a success with many American Tour Operators, Travel Writers and Tourists from all over the U.S. showing a great deal of interest in visiting Sri Lanka.
Photography by Sagara Lakmal De Mel.
LA Times Travel Show 2012
27-29 January 2012
Ceylon Express was the only tour operator showcasing Sri Lanka…. rated as the hottest destination for 2012 by Conde Naste Traveler of Dec 2011 the interest to travel to Sri Lanka was very good and many travelers who had held back are now planning to visit. A peaceful nation open to tourism welcomes everyone.
The Consul General of Sri Lanka in Los Angeles opened the booth at the trade show on Jan 27, 2012. Many brochures on commerce and trade to and from Sri Lanka was made available to the general public and the media.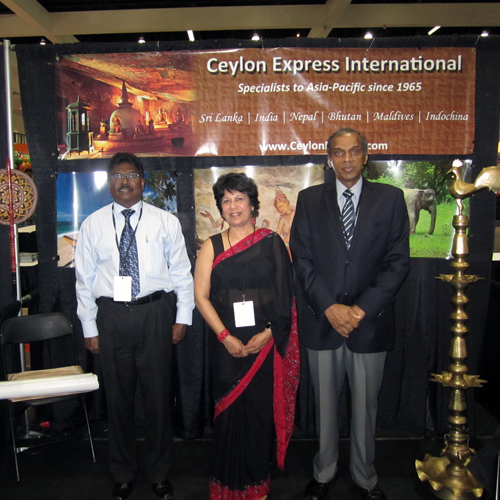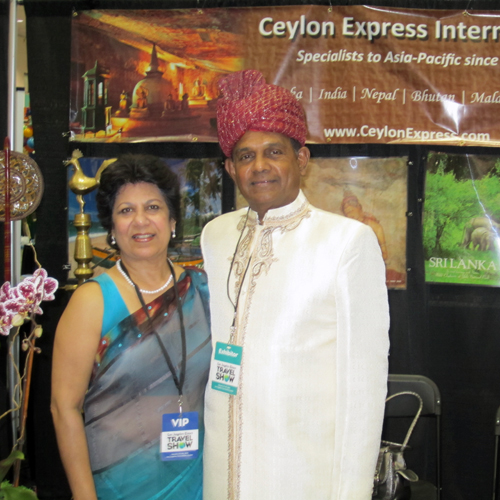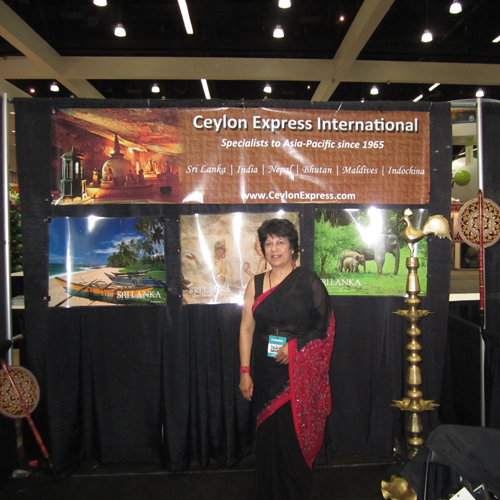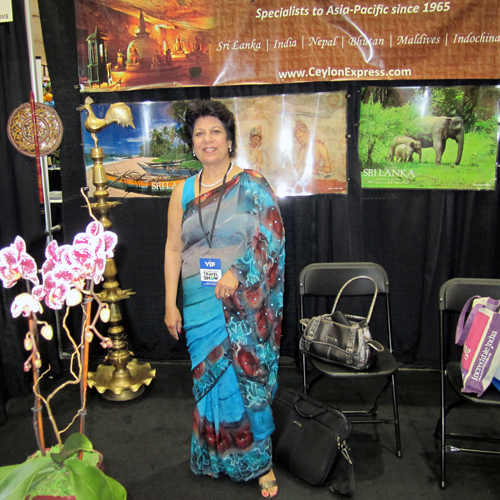 Sri Lanka Kandy Perahera Festival Tour
LA Times (March 2011)
Sri Lanka – Kandy Perahera Festival
2 – 15 August 2011 – (14 days)
Elephants on parade…visit Sri Lanka to view the spectacular "Kandy Perahera", a pageant with almost hundred decorated elephants, hundreds of dancers, drummers, acrobats, fire eaters and torch bearers that parade the streets of the hill capital of Kandy in awesome splendor. This is one of the largest pageants in S.E. Asia attracting visitors from all over the world.
The tour includes the ancient cities of Anuradhapura, Polonnaruwa, Sigiriya, Dambulla, where you can view many UNESCO Heritage Sites. Also includes a visit to the Elephant orphanage in Kandy, the tea country of Nuwara Eliya, the wild life reserve of Yala and a pristine, southern beach resort with golden sandy beaches. Other highlights include an Elephant back safari in the jungles and a visit to a local orphanage that we support.
Dates: 2-15 August, 2011
Land Cost: $2,995 per person (double occupancy), Single Supplement is $865.
International air on Singapore Airlines from LAX to Colombo is extra starting at $1,250 plus airport taxes. We offer a small, well traveled group. Private tours can be arranged.
Land Tour includes: Top of the line hotels with breakfast and dinner, all tours, transfers, entrance fees and special tickets for festival at the Queen's hotel, services of a professional tour manager. Excludes: Lunch/beverages and Personal expenses including tips.
A visa is not required for Sri Lanka.
Extensions available to: Kerala – South India and the Maldive Islands
Ready for your next vacation?