Offering enchanting journey's of a lifetime!
Kerala is where India slips down into second gear, stops to smell the roses and always talks to strangers. The real emerald jewel in South India's crown are the backwaters that meander throughout Kerala. Here, spindly networks of rivers, canals and lagoons nourish a seemingly infinite number of rice paddies and coconut groves, while sleek houseboats cruise the water highways from one bucolic village to another. On this South India tour, your House Boat will carry you slowly into the countryside and offer a close look into an engaging rustic life. Skiff-fishermen launching their cockleshell boats and rural scenery will keep you interested in the exotic back-waters of Kerala.
Arrival – Madras (Chennai)
Meeting assistance on arrival and transfer to your Hotel Savera.
Madras – Mahabalipuram – Madras (B)
AM: Madras city: visit the fort St. George and St. Mary's church-built by the British East India Company in 1653 AD. A church within the fort was consecrated in 1680. The high court, built in the indo saracenic style and the San Thome cathedral, where St. Thomas the apostle is said to be buried. Marina beach is one of the nicest beaches in this region, popular with the local people.
PM: Visit Mahabalipuram: Also known as the Seven Pagodas, Mahabalipuram is a pleasant seaside Resort, 85 kms from Madras. Today the principal attraction of the place to the tourist lies in the wonderful monolithic monuments and stone sculptures of the ancient Pallava Dynasty of Kings who ruled much of the territory now known as Tamil Nadu, from the 16th century AD. These Kings laid the foundations of Dravidian architecture in India and at Mahabalipuram, today, the earliest of these remarkable monuments are to be seen, all hewn out of rocks. The important monuments to be seen are the Five Rathas, the bas-relief on huge rock popularly known as Arjuna's Penance, the Mahisasura Mandapam, the Krishna Mandapam and the shore Temple.
Return to Madras for your overnight stay at Hotel Savera.
Madras / Trichy / Tanjore (B)
After breakfast transfer to the airport for your flight to Trichy.
DEP: MADRAS      1245 HRS    Kingfisher Air #IT2991
ARR: TRICHY        1355 HRS
Meeting assistance on arrival and enjoy a quick tour of Trichy.
Trichy: This town had been the southern sea of power for centuries.  Many French and English battles were fought here battling for power when Robert Clive brought victory to the English in 18th century. The rock fort has played an important role in these events.  Visit the island of Srirangam, a massive Vishnu temple with seven walls.
Later drive to Tanjore. On arrival check in at Hotel Parisutham.
Tanjore – Madurai (B)  
Continue the South India tour after breakfast by visiting the world famous heritage Tanjore temples.
Tanjore (Thanjavur): Tanjore was the capital of Chola Empire from the 10th to 14th century A.D. built in 1003 a.d. by King Rajaraja. This temple is considered the grandest and finest in India. The majestic tower of the temple rises 216 ft. high over the city. The temple is capped by a monolithic cupola formed by a single granite block weighing 80 tones. This enormous stone is said to have been positioned by moving it along an inclined plane which commenced in a village 6 km. away – a technique adopted by the pyramid-builders of ancient Egypt.
PM: Drive to Madurai (128 kms –3 hrs) check in at your Hotel Great Regency.
Madurai 
After breakfast visit the Meenakshi Temple.
Meenakshi Temple: This is an exquisite example of Temples built by the Pandyan Rulers. There are as many as 11 majestic towers with the main entrance from the east. There are two Shrines, one dedicated to Sundreswarar and the other to his consort Meenakshi. The hall in front of the Sundareswarar shrine is known as Kampathadi Mandapam. The different manifestations of Lord Shiva are depicted on the pillars of this hall. 
The hall of thousand pillars is the most interesting feature. This remarkable structure was built in the 16th century. The pillars here have a repeated motif of the Stylized Dragon. There are musical pillars in one of the outer enclosures. Each pillar sounds a different note when struck. Inside, a pillared Portico surrounds he sacred Golden Lotus Tank. According to a legend, this tank was once used to judge the Merits of Tamil Literary Works. Manuscripts of great worth would float on its discerning waters, while those lacking in merit would sink. The Temple Art Gallery is interesting.
Witness the Pooja (Worship) ceremony in the evening on this tour of South India.
Overnight at Hotel Great Regency.
Madurai / Periyar (B/D)
Drive Madurai/Periyar (160 kms/4 hrs).On arrival check-in at Hotel Cardamom County.
PM: Boat cruise in the Periyar Lake to see the wild animals.
Periyar Wildlife Sanctuary – surrounds the Periyar Lake formed by a dam across the Periyar River. This tropical forest reserve has all the major birds, animals as well as flora which a nature lover would like to see. A variety of wildlife, from elephants, bison and monkeys may be seen, from your launch cruising down the lake which meanders through the jungle-covered hills that surround it.
Continuing with the tour of South India, you can enjoy a walk through a small bazaar where you can see the famous spices of India which are grown in this area. The whole area is a lush tropical garden filled with spice plants of all kinds including cinnamon, cardamom, nutmeg, pepper, cloves etc.
Periyar / Kettuvallam (B/L/D)
Drive Periyar to Kottayam to the jetty. On arrival check-in at your Houseboat  known as the VAMBANADU KETTUVALLAM. ((Non- air -conditioned)
Kettuvallam: Adapted and modernized from the traditional Kettuvallam (Rice Boat) of Kerala, the Kettuvallam is an experience in itself.  Large and comfortable amenities you could ask for.  A large, secluded bedroom, an attached bathroom, a full fledged kitchen with a spacious dining area and a sundeck where you can laze on wicker chairs as you watch the world go by.  The Kettuvallam comes complete with a full time chef to cook you the catch of the day or whatever else that you might fancy and two attendants are always at your beck and call to serve your needs.
Your House Boat carries you slowly into the countryside offers a close look into an engaging rustic life.  Skiff-fishermen launching their cockleshell boats and rural scenery will keep you interested in the exotic back-waters of Kerala.
Lunch and dinner at the houseboat.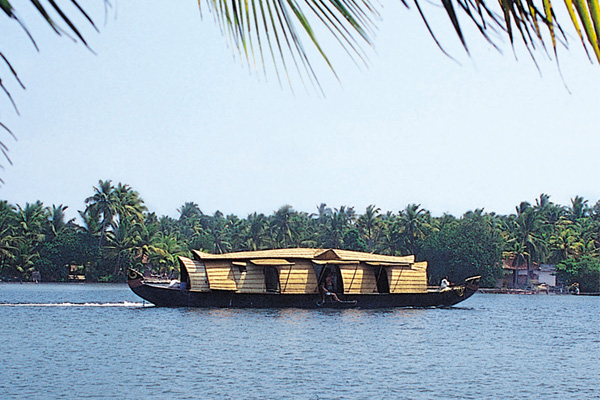 Kettuvallam / Cochin (B)
Early in the morning enjoy a panoramic view of sunrise from the deck of your houseboat.
After breakfast cruise towards Alleppey through interesting countryside. Arrive at Alleppey by the rice boat and drive to Cochin (2 hrs). On arrival check-in at your Hotel Arches.
Eve: Enjoy the Kathakali dance performance in a theater. You will get there one hour early to see the artists putting on the exquisite make –up. 
Cochin (B)
AM: Cochin: Continuing with the South India tour, you will visit to the Cochin Harbor Terminus, Mattancheery Dutch Palace, Jewish Synagogue, Fort Cochin Area-St. Francis Church, Chinese Fishing Nets. Also at Ernakulam, the Public Gardens, Colleges, High Court Building and Broadway Shopping Centre.
PM: Indian home visit with Kerala cuisine cooking demonstration and Dinner.
Overnight at Hotel Arches
Cochin / Departure (B)
Room until noon. Later transfer to Cochin International airport for your flight home.
*Itinerary is subject to change due to changes in local conditions or for circumstances beyond our control.
9 nights hotel accommodation with daily breakfast
Full board at non air –conditioned houseboat
Train fare – madras to trichy in aircon chair car
Transfers & tours by aircon vehicle
Local english speaking guide
Present government taxes
Boat cruise in periyar lake
Kathakali dance in Cochin
Entrance fee at all monuments
3.10% vat govt. Tax
International Airfare and taxes are not included. Choice of Cathay Pacific Airways via Hong Kong (LAX – Madras – LAX) or Singapore Airlines via Singapore (LAX – MADRAS and return from Cochin).

Charges for services of a personal nature, such as personal tipping, telephone, laundry, room service, airport taxes, trip/baggage insurance, visa/passport fees, camera/video fees, extra meals and beverages and any items not specifically mentioned.
Low cost add-on airfares available from your home city. 
Completed booking forms & a deposit of $500 per person are required to reserve a space on this tour. 
Click here to download our Booking Form / Credit Card Authorization Form / Terms & Conditions.
Ready for your next vacation?