Offering enchanting journey's of a lifetime!
With its mind-bending diversity – from snowcapped mountains to sun-washed beaches, crusty old bazaars to chichi designer boutiques, tranquil temples to feisty festivals, ramshackle rural villages to techno-savvy urban hubs – it's hardly surprising that India has been dubbed the planet's most multidimensional country. This India tour is a great way to see the most popular attractions in India.
Arrival: Delhi 
Meet on arrival and transfer to hotel.
Delhi
AM: Sightseeing tour of New Delhi, India.
New Delhi: The capital of the country has long been a phoenix rising again and again out of its ruins. Delhi is really seven cities in one, the first dating from the 11th century. In this Indian tour, you will see the famous Qutab Minar-12th Century 238 ft. High Stone Tower, indeed a masterpiece of construction, Humayun's Tomb-Built by widow of the second Mughal King Humayun in 1265. New Delhi was the creation of the British Raj of the 30's and includes The President's House, Parliament, India Gate, the Rajpath and downtown Connaught Place, India. Tour the National Museum before visiting to Old Delhi.
PM: driving tour of Old Delhi, India. For something close to Rudyard Kipling, Drive pass by the 17th century Old Delhi; Jama Masjid – The biggest Mosque in India and visit Rajghat Memorial where Father of the Nation Mahatma Gandhi was cremated.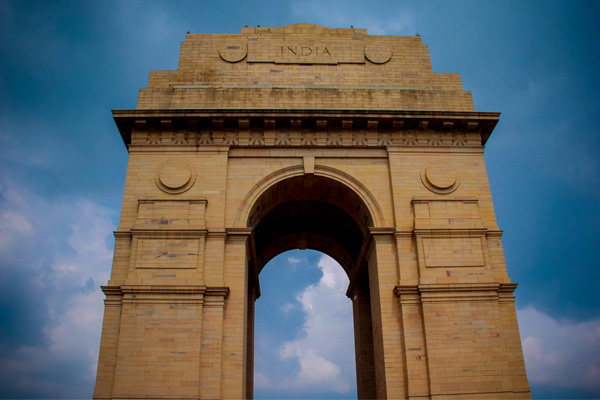 Delhi / Jaipur
Drive Delhi/Jaipur (265 kms/5 hrs) on arrival check-in at hotel. 
Afternoon: Sightseeing Tour of Jaipur: City Palace, Palace of Winds & Observatory.
Jaipur City: This 18th century city (Capital of Rajasthan) is famed as "The Pink City", because of the local Rose-Pink-Sandstone used in its construction. The fortifications give it a medieval atmosphere, but its well-planned layout is "Modern", built in 1728. Visit Maharaja's City-Palace and Museum (consists royal clothes, armory etc), situated in the heart of the city with charming gardens surrounded by high walls;  Palace of Winds (Hawa Mahal), a uniquely designed five -story structure with tiers of over hanging Balconies of Pink Sandstone; Maharaja Jai Singh after whom the city was named, being a keen astronomer built an astronomical observatory which is still in use. It is made of quaint masonry instruments of remarkable sizes. 
Evening you can enjoy dinner at local restaurant Surbhi where you can see the collection of various Rajasthani turbans. (optional – direct payment).
Jaipur 
Morning: Excursion to Amber Fort with Elephant Ride.
Amber (Palace) Fort: The original palace of the local rulers was built in the 17th century high up on a hill overlooking a lake, just below the vast and somber walls of the ancient Fort of Amber.  The Rowers and Domes of The Amber Palace are reminiscent of scenes from some Fairy-Tale. Its Halls of Victory is richly decorated with panels of alabaster with fine inlay work of tender colors.  You ascend up the palace on board gaily caparisoned Elephants, as did the Maharaja's of Yore.
After noon free to explore local Bazaars and in the evening visit Birla temple at sunset.  
Jaipur / Ranthambore
Drive Jaipur/Ranthambore (200 kms, 4 hrs). On arrival check-in at hotel.
PM: Jeep ride into the jungle to see the wild animals including tigers, if you are lucky!
RANTHAMBORE NATIONAL PARK – One of the most exciting Parks with Tiger sightings at its best, a photographers dreams come true, dotted with lakes and ponds around which wildlife abounds, predators and prey enact their day to day dramas.  The 410 sq. Kms. Park is covered with Dhok, Ronj, Salai, Ber and Palm Trees. Belts of dry deciduous forests with ancient Banyans and Pipals, suddenly open into large areas of grassy meadows. The three major lakes, Rajbaugh, Milak Talao and Padam Talao are covered with giant lotuses which attract Sambars. The grassy edges are frequented by Chital, Wild Boars and other ungulates. The marsh Crocodiles bask on the shores, the Tigers are often on the prowl at the peripheries.  The variety is vast and birds have special say, screeching parakeets, whistling magpies, and Dancing Peacocks abound in the park.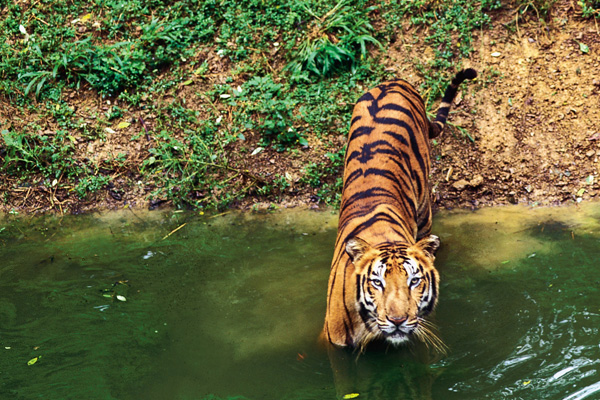 Ranthambore
AM & PM: Jeep ride into the jungles for further viewing of wild animals.
Ranthambore / Agra
After breakfast drive Ranthambore/Agra (294 km/7 hrs) visiting Fatehpur Sikri enroute.
Fatehpur Sikri: About 40 km from Agra lies the magnificent deserted city of Fatehpur Sikri, The Capital of the Great Emperor Akbar. During his brief stay here, a great Complex of Forts, palaces and Mosques sprang up, but Akbar was finally forced to abandon his dream city due to scarcity of water, and subsequently it became a Ghost Town.  This epic poem in sandstone lies straddled across a rocky ridge, surrounded by immense walls with nine gates.  The largest of the gates is the Buland Darwaza, which leads to the Jama Masjid and to The Fantastic Tomb of Sheikh Salim Chisti, which lies under an elaborate marble canopy and is lavishly inlaid with Mother-of-Pearl.
On arrival check-in at hotel.
PM: The Taj Mahal, unquestionably the world's most magnificent monument to over built in 17th century.  A colossal, perfectly proportioned mass of white marble, it is literally a jewel, fashioned over 20 years of hundreds of skilled craftsmen and over 20,000 laborers to float like some fantastic mirage upon the Yamuna. (Kindly note Taj Mahal is closed on Friday). This India tour will continue with a visit to Red Fort depending on the time.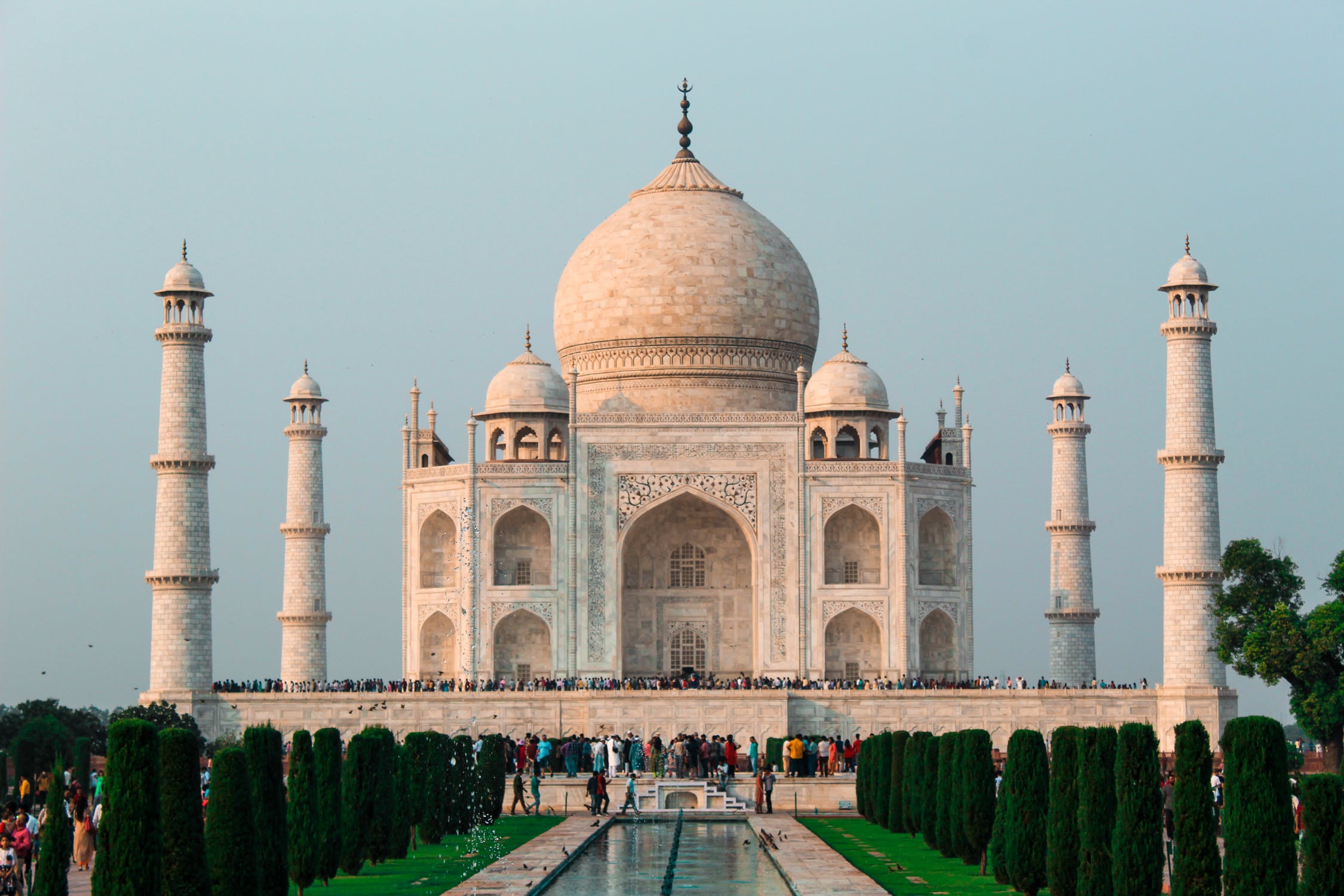 Agra / Delhi / Varanasi
After breakfast drive AGRA/DELHI (203 KMS 4 HRS) straight to airport.
DEP: DELHI           1255 HRS    S2 115
ARR: VARANASI    1535 HRS
Meeting, assistance on arrival and transfer to hotel.
Varanasi / Calcutta
Early morning boat cruise on the sacred River Ganges to observe the religious rituals.
Ganges boat tour- "soul of the holy city", drive through the city to the sacred river & then cruise by boat on Ganges visiting Dasaswamedh bathing ghat Manikarna cremation ghat, panch ganga ghat, munshi ghat and return to dasaswamedh ghat.    
Return to hotel for breakfast.
AM: India city tour visiting Banares Hindu University set in a large park; Bharat mata temple, Durga temple, king Aurangzeb's mosque; sacred bull, Shiva temple, well-of-knowledge, Kala Bhawan art gallery, Vishwanath temple, golden temple and a drive through the city.
PM: Excursion to Sarnath.
Sarnath  10 kms. North of Varanasi is Sarnath, where in the "deer park, Gautam Buddha delivered his first sermon after he became the "enlightened one". The ruins of monasteries, built more than 2000 years ago, the Dhamek stupa and the man shrine draw Buddhists pilgrimage to Sarnath. Here stands the famous Ashoka pillar of polished sandstone whose lion capital has been adopted as India's state emblem. The museum (closed on Friday) contains many superb specimens of ancient art.
EVE: transfer to railway station
DEP: VARANASI    2040 HRS    2312 EXP.    First Class Aircon sleeper
Arrival:  Calcutta    0725 HRS    Aircon Sleeper
Meet on arrival and transfer to hotel.
PM: Sightseeing tour of Calcutta city visiting: Victoria memorial and Museum, the river side, Howrah bridge with flower market (in the morning), mother Teresa homes, Nirmal Hridey (old home), Jain temple. Also visit Indian Museum of art & architecture.
Departure to USA
Transfer to international airport for flight to next destination.
*Itinerary is subject to change due to changes in local conditions or for circumstances beyond our control.
Suggested Hotels In Quotation, India – 2 Categories
 Days
 City
 Category I
 Category II
 
 
 Good 3* & 4*
 Superior 4* & 5*   

 01/03
 Delhi
 The Qutab
 The Park
 03/05
 Jaipur
 Clarks Amer
 Jai Mahal Palace
 05/07
 Ranthambore
 Tiger Moon
 Taj Shooting Lodge
 07/08
 Agra
 Clarks Shiraz
 Jaypee Palace
 08/09
 Varanasi
 Meredien
 Radisson
 09/10
 O/N Train
 First Class Aircon Sleeper
 10/11
 Calcutta
 The Park
 Taj Bengal/The Oberoi
Quotation, Per Itinerary, Per Person, Sharing Twin
Minimum 2 Persons
Category I
 Category II
1) Land Tour cost, perx itinerary (10 Nights)
TBA
 TBA
2) Domestic India airfare (Economy Class)
TBA
3) International Airfare – Discount Economy Airfare *Subject to change
 
     a) Thai Airways – LA-Bangkok- Delhi r/t
 TBA
     b) Malaysia Airlines – LAX – Kuala Lumpur- Delhi
Return: Bankgok – Kuala Lumpur – LAX
TBA
     c) Singapore Airlines – Routing: LAX-Singapore-Delhi
Return: Bangkok-Singapore-LAX
TBA
     d) Cathay  Pacific Airlines –  LAX – Hong Kong- Delhi r/t
TBA
10 nights hotel room with breakfast & one over night by train, full board at Ranthambore
Jungle plan at ranthambore
Tours/transfers by air-con comfortable ambassador car
Local english speaking guides per itinerary
Boat ride at river ganges
Present entrance fees at the monuments per itinerary
Present government taxes.
First class aircon sleeper train fare varansi/calcutta
3.01% govt service tax as VAT. * new tax!  
Charges for services of a personal nature, such as personal tipping, telephone, Laundry, room service, airport taxes, trip/baggage insurance, visa/passport fees, Camera/video fees, extra meals and beverages and any items not specifically mentioned.
Low cost add-on airfares available from your home city. 
Completed booking forms & a deposit of $500 per person are required to reserve a space on this tour. 
Click here to download our Booking Form / Credit Card Authorization Form / Terms & Conditions.
Ready for your next vacation?